Yachtie Pride
At Meridian° we think a sense of pride is important. Pride in your work, pride in your appearance, and most importantly PRIDE in yourself. Pride about who you are and whom you love. Pride in your community. You deserve to be proud every day of your life both at home and at work.
During the month of June, we take the extra initiative to show that we too have that pride in all you do! We wanted to take this opportunity to share a special exclusive blog interview with the newest member of the Below Deck Med Season 7 Steward Kvle Vilioen. We chatted with Kyle about how he got started in the industry, how it has accepted him, and what advice he has for other L.G.B.T.Q.I.A.+ yachties.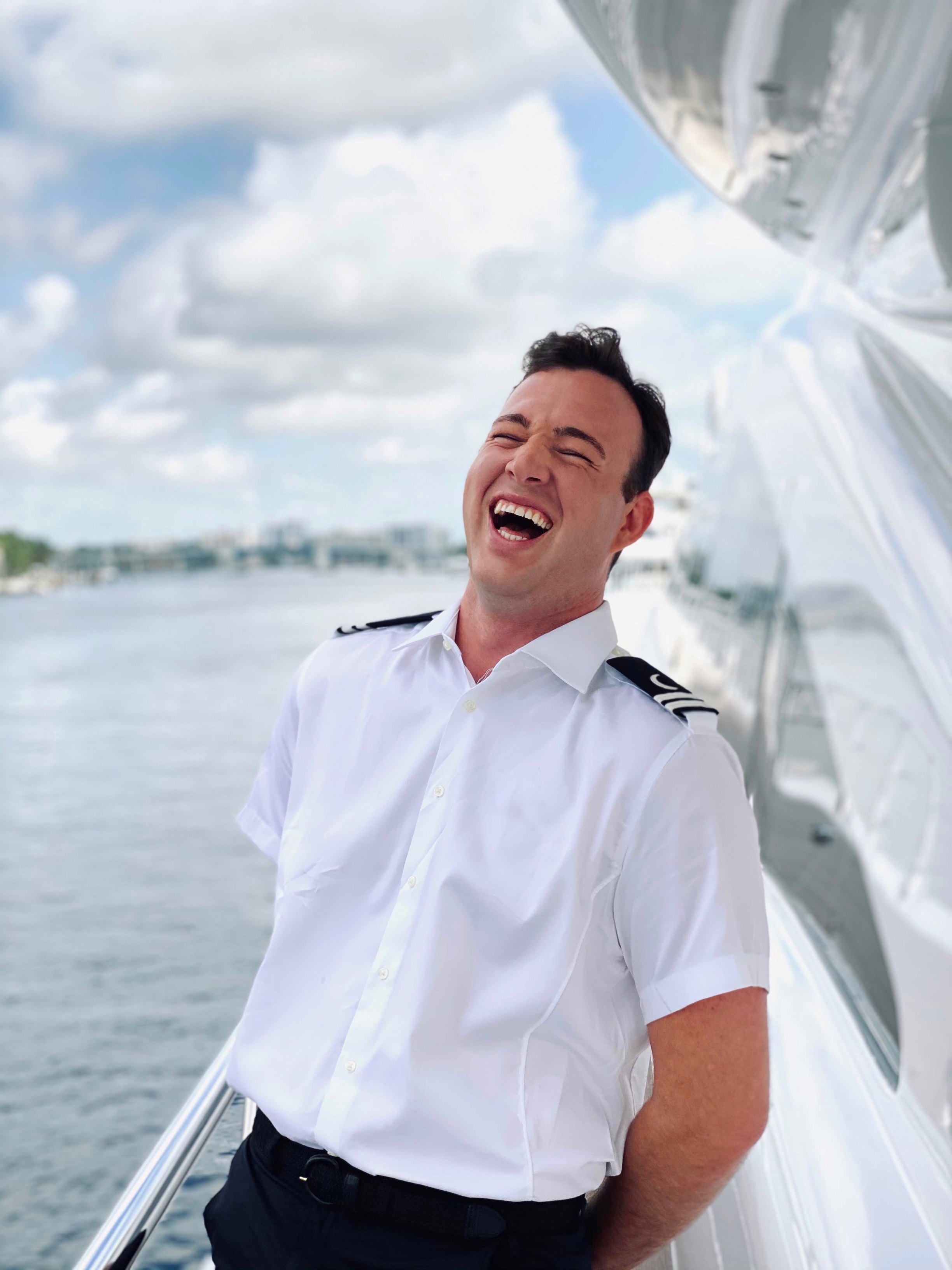 How did you get started in the yachting industry?
I started my very first-day work gig cleaning bilges with my brother in June 2019 he told me to pack my life up in South Africa and sell everything I had to start a new life on the US East Coast. Having obtained high managerial and service positions in Aviation and worked for millionaires and politicians alike in Africa and 52 countries around the world. I had no idea about the yachting industry and what that meant. I started my research in February 2019 and knew then that the most suited position for my skills and knowledge obtained would be best suited for an interior role aboard a yacht. I was also alarmed to read that male candidates don't get easily selected for these roles. I had opted to do my deckhand course as that covered majority of the yacht and in the event, I don't get the opportunity to work as a Steward I would have to opt for a deck role which would be in my demise as I have no existing knowledge on it. I knew how important this would be as I would give up everything I built in my professional and personal life of 26 years and start all over again. It was the biggest risk I've taken to date.
With $600 to my name from everything I had I knew I had a week to obtain a job. I made my way to Fort Lauderdale from Johannesburg after a very emotional goodbye and my parents wished not one but both their children farewell. I applied to numerous yachting agencies and naturally selected a steward position as my first choice and my second being a deckhand although I got certified in that. I knew I wanted to be a steward most as that is what I was most confident in and won numerous awards for my service skills for which I was even promoted to service and grooming trainer at my first company. After my first week of working temporary gigs I struggled to get a position as a steward and when I thought all was against me, many tears and sleepless nights later I had one in a hundred Captains that believed in me. He saw me for my skills, knowledge, and creative techniques and offered me my first official job as Chief Steward on a 137ft M/Y which I worked on for over a year before moving on to my next three vessels and entering the charter world eventually before making it on the TV. Now I hope to be seen in front of millions around the world for what I do so I can make a stand against homophobia in the yachting industry and break this stigma that certain roles are gender-specific and furthermore that all, regardless your sexual orientation, religious/cultural background, race, and gender can and should be filled by those whom can do their desired position efficiently.
Has the yachting community been a welcoming one?
My greatest struggles in the industry and to date still is, would have to be most of the Captains I come across, never the owner or hardly fellow crew members. The Captains have been the MOST closed-minded individuals requesting female-only roles or being turned away not because I'm a male but rather that I am gay.
I've been asked before in interviews that they are aware I'm gay "clearly" however I can work here as long as I'm not "flamboyant" as that could make the crew "feel uncomfortable." It was one of those positions I took because I had nothing else after numerous attempts and many regrets and lessons later realized how that would ruin who I am down the line. Unfortunately, most deckhands and Officers have this strong toxic masculinity which doesn't leave much room for me to co-exist I have even been sexually harnessed both physically and verbally. I was always the point of entertainment for the wrong reasons (not by my choice) and would always have to start from the lowest position aboard to "prove myself" although my resume clearly shows I'm overqualified for the position which is truly a waste of talent in that position.
I not only had to interview with the captain but with the fellow crew too if they would be comfortable having me around and sharing spaces and living quarters with a gay individual. It was extremely dehumanizing and broke me to the point where I lost all my self-belief and confidence. I was determined to not give up, I want to be a part of the difference and change the views of my community which LGBTQIA+ stands for and all we and passed community members have fought for.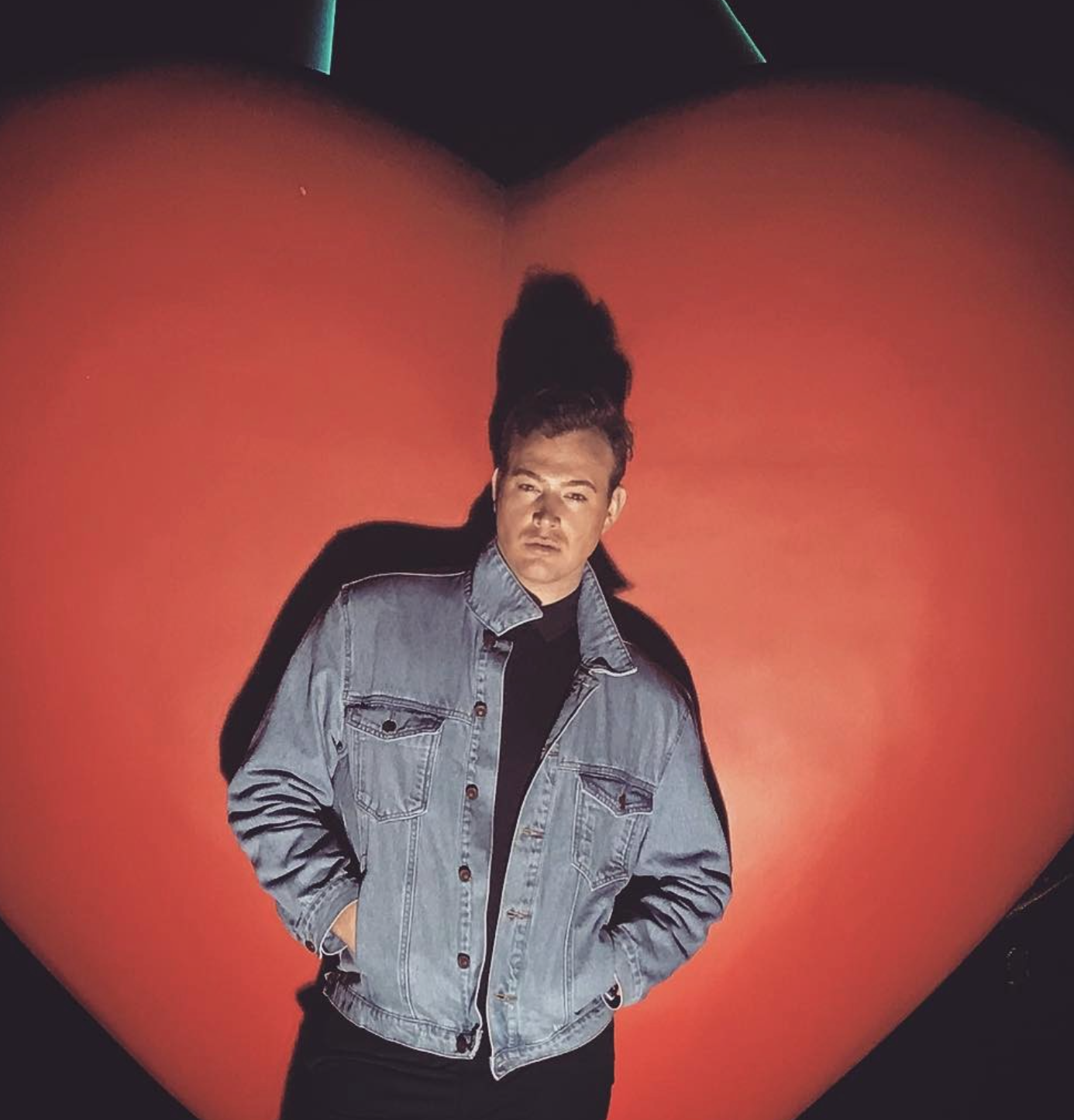 If you could wave a magic wand, what is one thing you would change in the yachting industry for the LGBTQIA+ community?
Color-coded sheets, we love color who needs numbers hahahahaha. Jokes aside, I would have multiple fleets of yachts hiring as many LGBTQIA+ crew members and taking them under my wing and teaching them all I know, and watching them grow and progress.
For many of us, yachting isn't a choice but rather a need for a more successful life, we leave our family, friends, memories, established comfort zones, and most even their country. Yachting should not be a point of competition but rather an environment that portrays the feeling that you arrived and are welcomed here.
What has been your favorite memory so far?
Meeting a chief Stewardess on a yacht which I assisted to flip, she had 11 years of experience at that stage and she was the most patient, caring and it was not her job to show me any tips and tricks but she taught me more than any certification could. She was a big reason why I wanted to work hard for a chief steward position in the future and shortly after I did. I will never forget her and her seeing the potential in me.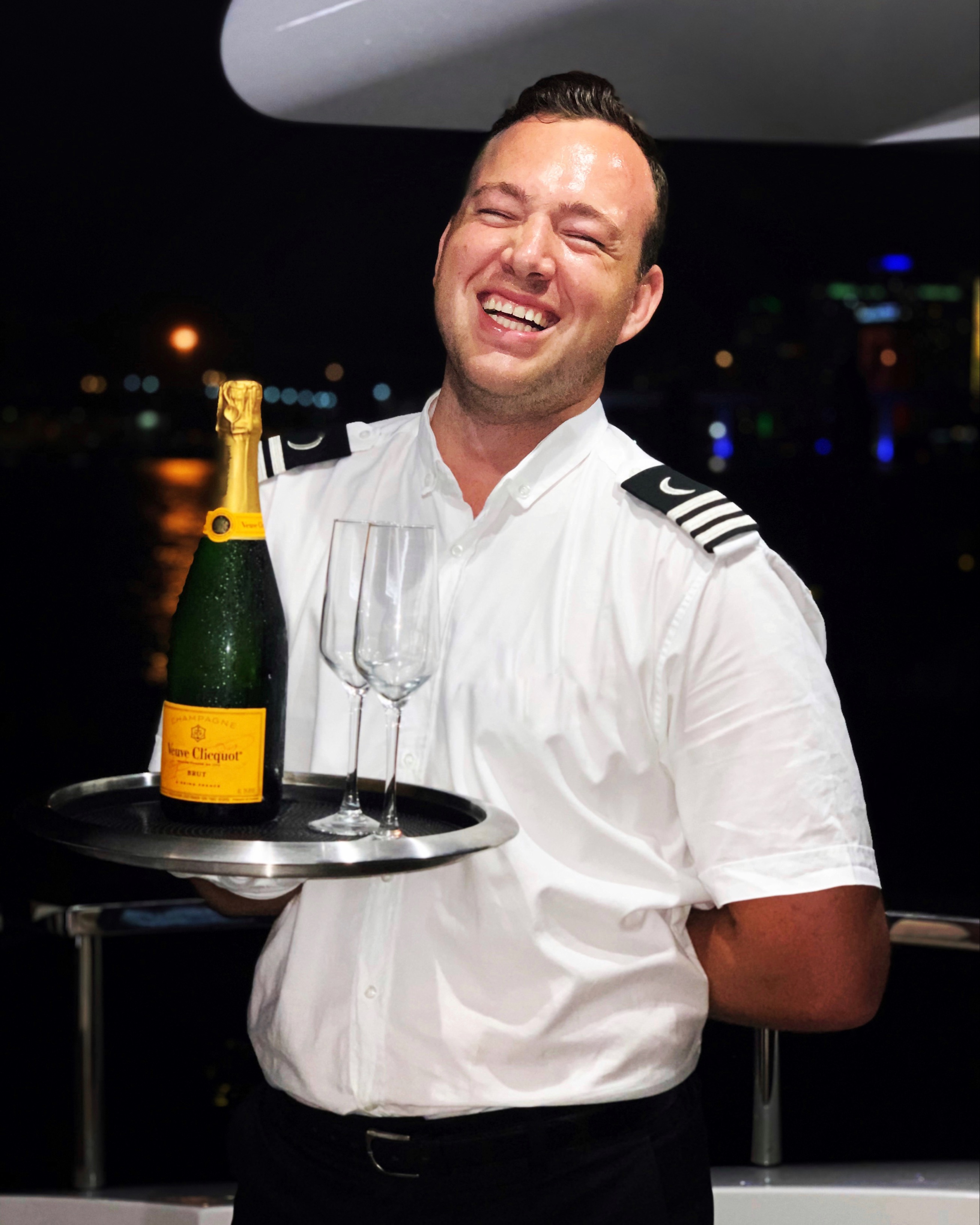 What inspires you?
My parents, as blessed as I am saying this my parents came from nothing and made a huge success of themselves on their own. They never gave me a minute to be down, from a young age they told me to fight, push, and conquer! They taught me anything is possible, studying in their 40s for their degrees, pushing my dreams, and embracing me with a reminder to keep my good morals, respect, and love for those around me regardless because of them I became a journalist, I worked at the age of 16 as a nanny, an entertainer at resorts, my teacher bachelors degree, modeling center page of South African Peoples magazine, in-charge flight attendant, trainer, cabin manager for private flying, traveled half the world, chief steward, tv personality, owning my own property and starting my own business. I owe my constant need for growth and evolution to them.
Top travel destination on a yacht and why?
The coastline of Italy and Spain, absolutely breathtaking views, it is one thing being in these cities and towns and then its another thing seeing these places for its entirety during both the day and night time along the coastline on a yacht worth millions of dollars. You get a true appreciation for it and fulfill your "Luca" fantasies cause I've been in Cinque Terre and this place could not have been better depicted.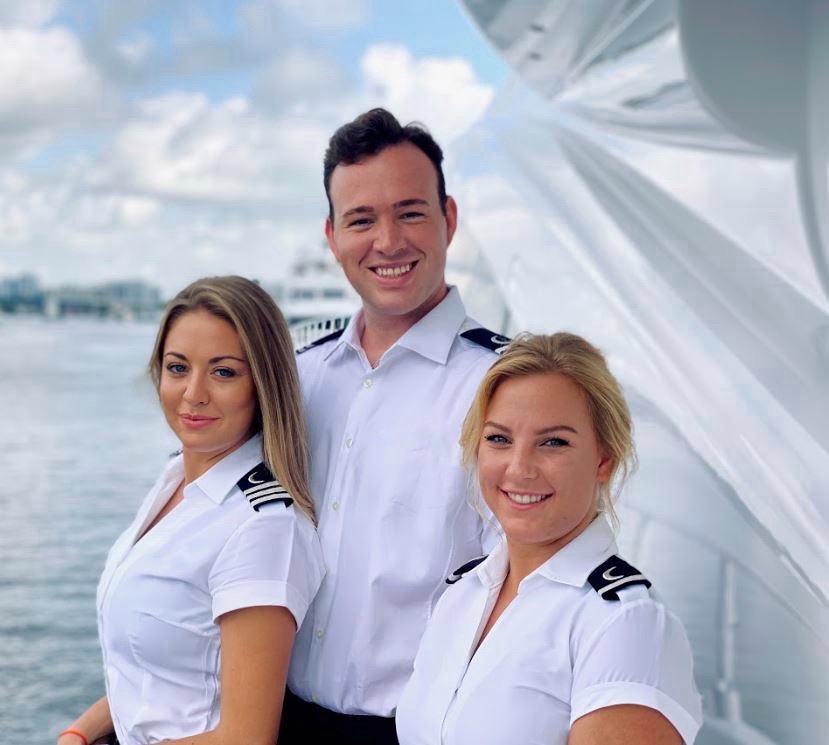 Do you have advice for the crew in the LGBTQIA+ community who want to start a career in the yachting industry?
You are part of a new generation, not an age generation but a new generation of the VERY small LGBTQIA+ community members that exist in yachting, you will be a part of what my generation and those before me having been fighting for. It is not so much the acceptance factor but rather the respect factor, being identified not based on my sexual orientation but my skills, experience, and personality instead. You DO NOT have to change who you are, hide who you are, or accept reclusive behavior from a single person. You're bigger! The let down won't be not getting work aboard yachts but rather being someone you not to please others. We are far from a radical change, far from being accepted as interior crew in comparison to deck crew. Your small input makes a huge change for those to come after. Stand up you are not alone!
How can yachts create inclusive environments for LGBTQIA+ crew?
We are being more inclusive of others' preferred pronouns, and how individuals wish to be addressed, allowing people to select their own gender and options for pronouns on applications. Our purpose is not to educate those on what it means to be part of the LGBTQIA+ community but rather to create room for us to showcase what we offer. Allow our creativity to radiate, and allow us to choose our cabin mate if applicable if the current occupant is okay with sharing regardless of sexual orientation and gender. Don't question our paths in life rather build a relationship of any sort that makes it comfortable for us to do so. Just because you might feel a certain way does not mean everyone else does so mind your P's and Q's. Our personal lives have nothing to do with our professional settings. Be more open to what skills and talents people have. There is more than floral arrangements and cocktail creations. There are crew who are musically inclined, those who can dance, sing, act, and showcase in other forms that can be beneficial to a yacht as a whole and the guests alike.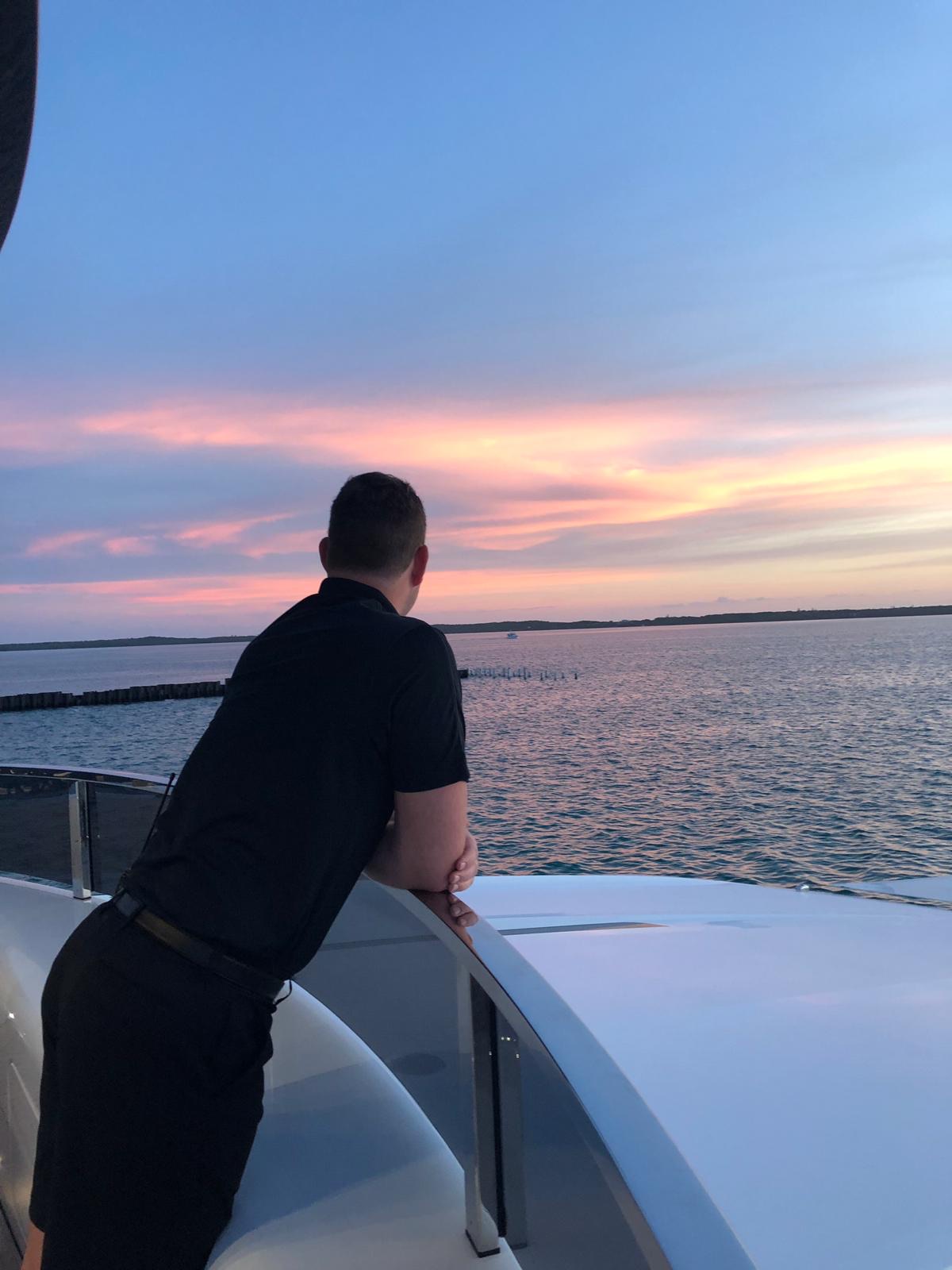 What can yachties do this Pride Month to raise awareness about important issues that impact the global LGBTQIA+ community?
Donations go a far way, donating to any cause for the countless homeless LGBTQIA+ community members, many due to not being accepted at home, workplaces, and even certain parts of the world with nowhere to go. Hire a member of the community, and give them an opportunity to work this month and possibly longer. I understand you can't bare our flag high and proud on yachts during guest time off however making TikTok videos showing support as crew, and showcase different stories of LGBTQIA+ yacht crew aboard. Chefs baking cakes with our flag colors, reaching out to friends/family members and crew alike to let them know that are thought of and celebrated. Any small act makes the biggest difference. I don't think people realize that yet.
Lastly, what is your all-time favorite Pride song or beat to diva out to?
Iv'e had so many through the years but "one that is giving me life right now" has to be either Luther Vandross- Never Too Much for some soulful stank or LGBTQIA+ artists Kim Petrus- Future Starts Now and Jol Monterio-Clyde (up-and-coming).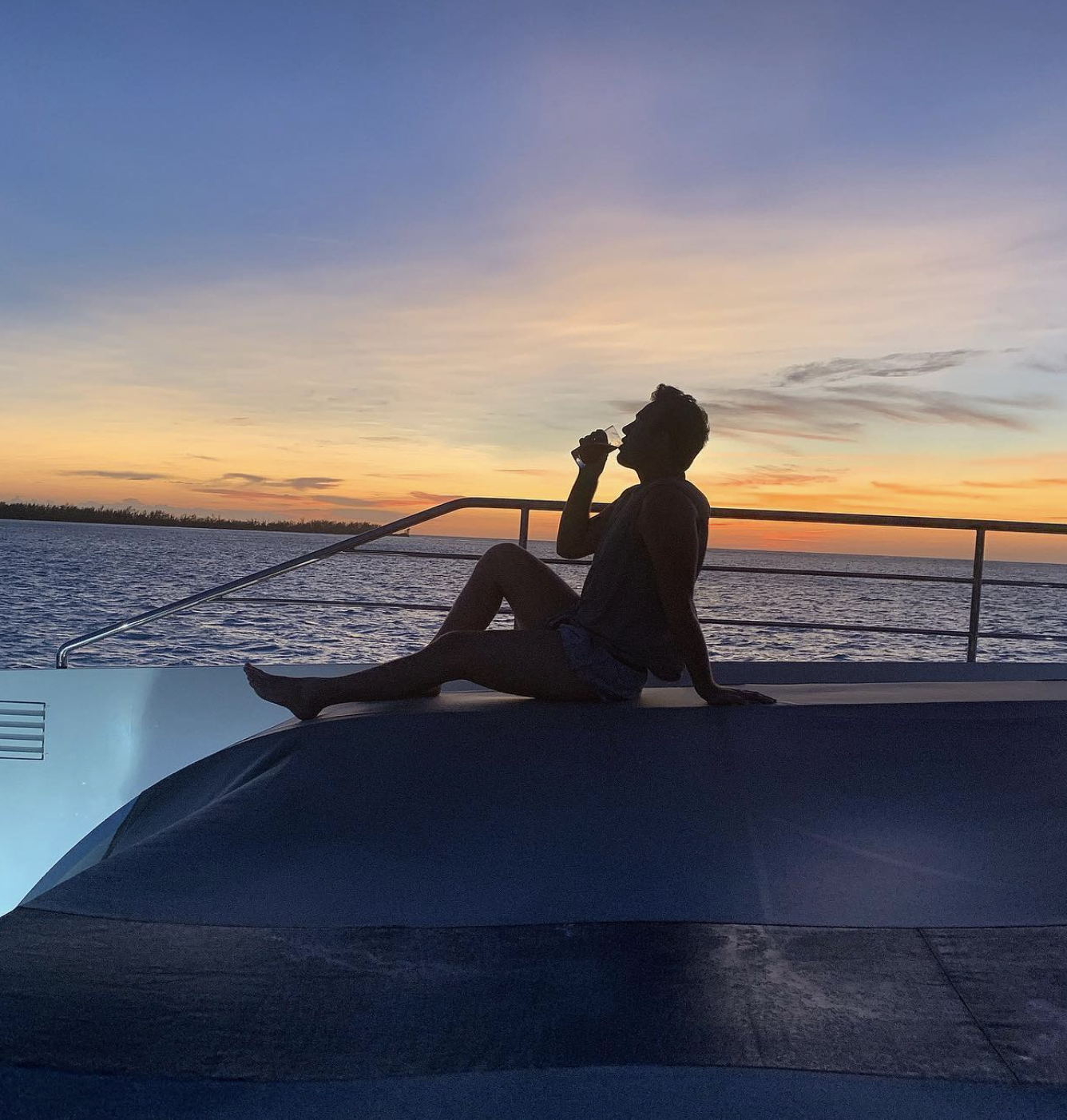 Closing statement – advice, tips, tricks, feedback, quotes, words of wisdom?
One thing I can say through my hard times of being rejected, many people regardless of their sexual orientation get rejected every single day. What is most important to know is that "rejection is protection" what rejects you is keeping you from possible harm from what to you is not yet known and at this time or place this is not your story or path. Embrace the rejections this is not your time, it is your time for something else or bigger.
You've taken years and internal hardship to define who you are DON'T let anyone define who you are. Persist, push and conquer! You stand for so much more than a role or racked-up trophies, you stand for overcoming one of your biggest hardships - being who you are and that is NOTHING to be ashamed of.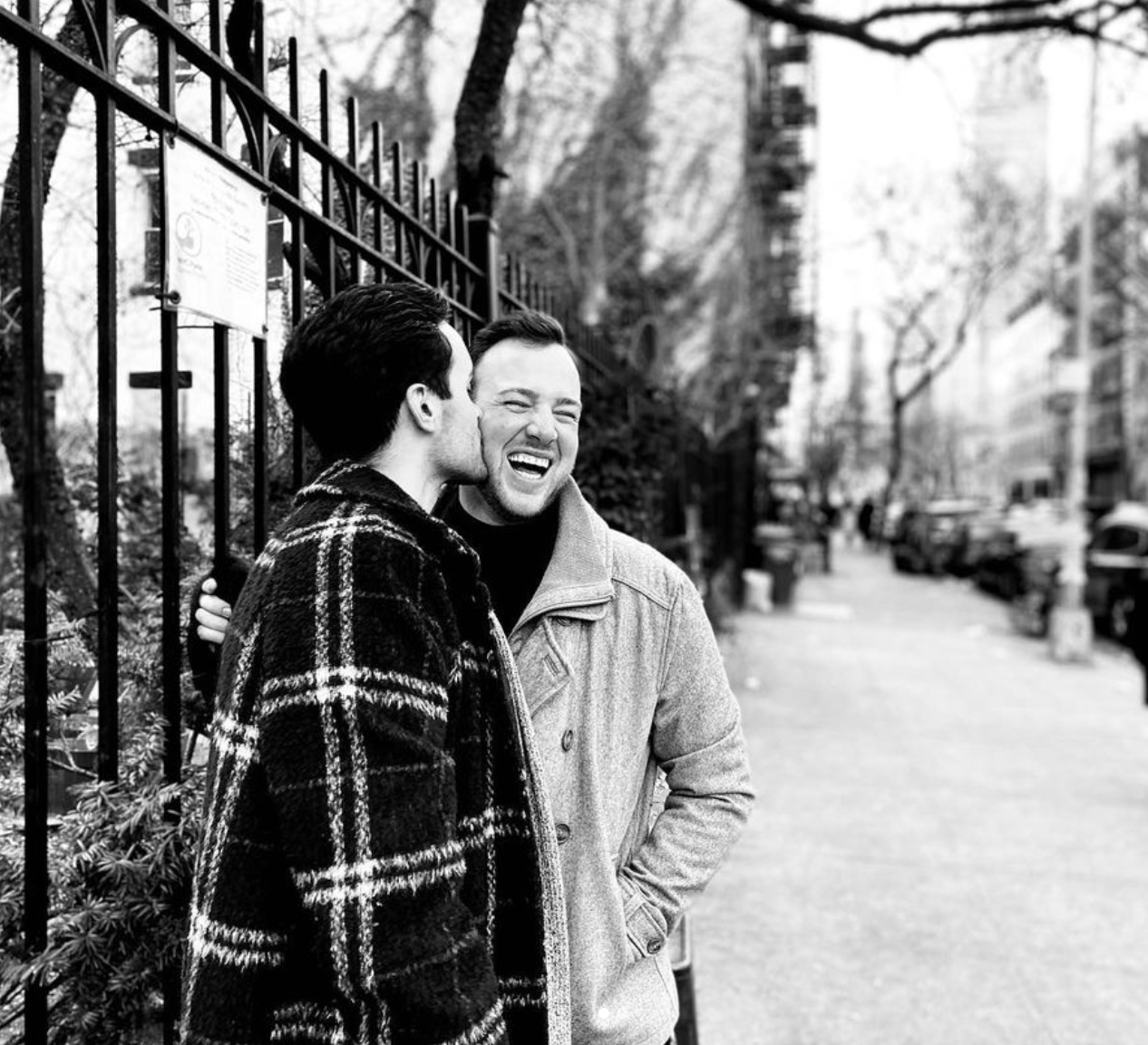 We are so thankful to Kyle for taking the time to chat with us! We at Meridian° can't wait to see him on the upcoming season of Below Deck Mediterranean.
As always, no matter where your life takes you Meridian° is here for you every step of the way. From getting you hired or helping you find a crew, our team of industry experts are here to help. At Meridian° we want you to come for a job and stay to build a career.
​
---
Looking for a yacht job? We are here to help guide you on the journey! Send us your CV/Resume and we will create a profile for you today! Crew@MeridianGo.com
Looking for crew? Join now and easily search over 40,000 qualified crew profiles to find your next great hire! Email Sales@MeridianGo.com
Copyright © 2022 by Meridian°
The information provided in this publication is intended for guidance only. We make every attempt to ensure the information included in this publication is accurate and up-to-date. However, Meridian° makes no warranty or guarantee regarding the accuracy of the information within this publication. We recommend, in all cases, seeking specialist advice so that your circumstances can be fully considered.
All rights reserved. This publication or any portion thereof may not be reproduced or used in any manner whatsoever without the express written permission of the publisher except for the use of brief quotations in a book review.
---