"We Salute You"
Wherever there are people, there is a need for nurses! Nursing is not just limited to bedside nursing in hospitals or care facilities. Nurses are even required on the high seas! You may be pleased to know that this lesser-known career exists.
These nurses travel all over the globe on the world's most luxurious superyachts. Yachting can take you from the tropical turquoise waters of the South Pacific and Caribbean to dodging ice bergs in Alaska.
We chatted with Lauren Hanson, a nurse with over five years of experience working on superyachts, to get the inside scoop on her work experience throughout the years.
Q. How did you start your career as a yacht nurse?
A. How can I travel and pay off my student loans whilst still being able to care for others?
I was looking for an adventure when I decided to join the yachting industry.
It's actually quite a story... I had broken my foot on a cruise from Boston to Bermuda (that is another story in itself) and got talking to the nurse on board. She sparked my interest that I could combine a life of travel with my career. In the 5 months it took me to heal, I had done quite a bit of thinking and researching. I thought maybe I could be a nurse on a smaller vessel, in more of a private sector, and I just so happened to stumble upon some yachting webpages. I did not even know the industry existed until then! I went back to work for another year and read cover to cover, Julie Perry's, Insider's Guide to Becoming a Yacht Stewardess. I told all my nurse coworkers about my dream... and boom, broke my foot again! Another 3 months off work to ponder my life's purpose... if this wasn't a sign, then I don't know what was. Once healed, I followed everything Julie said to do in her book, and moved down to Ft. Lauderdale. After some daywork and temp positions as a stew, I was hired for my first nurse/stew role on a 70 meter yacht traveling the most beautiful, highly remote parts of Indonesia! It was a huge learning experience and I got a real look at the capacity of this industry.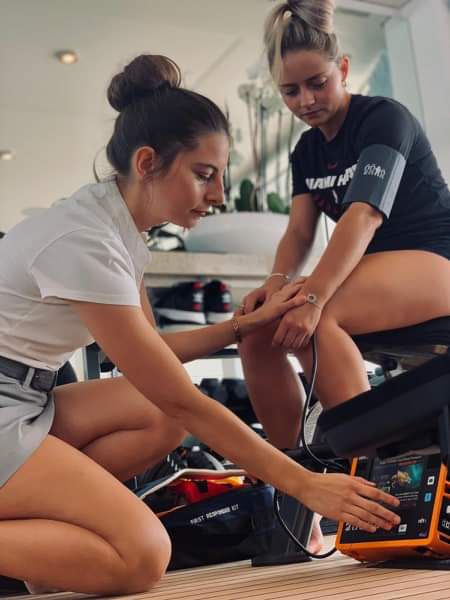 Q. How is it different to the role of a land nurse?
A. For starters, yacht nursing is not like bedside nursing, maybe except for the extremely long work hours on your feet and the constant flow of humor. Lots of humor! That and working nights, were nothing new to me. Prior to yachting, I was Charge Nurse of a 24-bed pediatric long-term care facility; specializing in the care of high-tech, medically fragile infants and children who had some incredible and rare disease processes. Ventilators, G-Tubes and IVs are not what I focus on anymore. As a yacht nurse my role is much more administrative. Where I once relied on bathing and turning heavy patients to get a workout, I now rely on the stew aspect, running up and down stairs, hastily turning up cabins and serving multi-course meals. These sure are sweaty careers I have chosen! Currently, I am in charge of ordering medical supplies, liaising with our insurance company and MedAire (our remote medical service), making medical appointments, providing 1st aid, giving medical opinions and running medical drills (health risks of man overboard, teaching crew how our medical kits & equipment work, how to administer certain forms of first aid). Over the years on yachts, I have dealt with pig bites, concussions, partial finger amputations, panic attacks, coral lacerations, post-op wound maintenance, and the list goes on. Anything and everything can happen on board and thankfully it has never been too serious. Sometimes all my patient needs are a little reassurance and a motherly pat on the back, there there.
Q. Are there certain skills/certificates/qualifications you need to start yachting as a stew/nurse?

A. Besides your ENG1 Medical, STCW BST, PDSD & Food Hygiene, to become a Nurse in this industry, you will obviously need a degree in nursing, weather that be Associates or BSN prepared. You will need current and valid licensure. Maintaining that licensure and taking any continuing education courses for not only your licensure, but for your personal skillset, is a must. To have acute-care experience is helpful when seeking a nurse position on a yacht. After some time in the industry, you realize that you have traded bedside-burnout for what feels like the loss of some skills. It can be difficult being the only nurse on board and not working alongside other medical professionals' day in and day out.
Q. Do you have any advice for someone thinking of this as a career?
A. I highly recommend taking an AWLS - Advanced Wilderness Life Support Course or something similar. Having the STCW Medical Care Person in Charge course under your belt will allow you to be medical person in charge on a vessel. I suggest discussing that with the captain of the vessel you join. So, if you are thinking of joining the yachting industry as a Nurse, please do contact me! I am an open book and I love to help others. Find me on Instagram @Rx_YachtNurse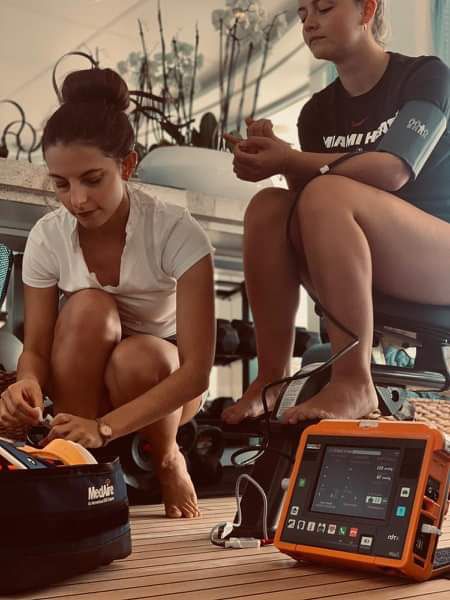 Q. Has Covid-19 affected your job onboard?
A. In these trying times, I am so thankful that COVID-19 has not hit our vessel. We have been extremely fortunate for our health. I believe this is a good deal due to our early and consistent precautionary measures on board. It has been worrying, watching fellow nurses and healthcare providers on the front lines of the COVID-19 pandemic. They are giving so much of themselves at the physical, mental, and emotional compromise to their own health. I commend them greatly.
Q. How will you celebrate International Nurses Day?
A. This International Nurses Day, I will celebrate by continuing to support my fellow Nurses. In such by doing what is asked of me to keep myself and others safe and healthy; mainly being social distancing. This International Nurses Day is indeed quite different from Nurses day of years past. Just as the World Health Organization declared it, 2020 truly is the year of the nurse!
THANK YOU!
---
Ready to continue the job search? Create a free CREW account to get hired now.
Are you looking for crew or day workers? Create an EMPLOYER account and find someone in minutes!