Flowers Onboard Superyachts
Flowers are a huge part of the overall atmosphere onboard luxury superyachts. Every time the guests or owners are onboard there should be an abundance of fresh flowers on display. We had the pleasure of interviewing Anna Kozma a Ft. Lauderdale local who created the incredible business Stems and Shoots. Anna specializes in exquisite floral design and event photography. Her creative inspiration stems from her world travels as a stewardess on super yachts that have brought her far and wide, from the turquoise seas of the Mediterranean to the iceberg shores of Alaska.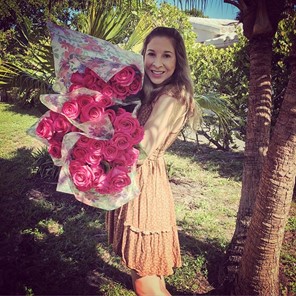 Q. How long have you been working with flowers and what is your favorite part about it?
A. My first experience working with flowers was ten years ago as stewardess. It was one of my responsibilities that I enjoyed because it never seemed like work and allowed me to express my creativity. My favorite part about flowers is that fact that I am working with my hands, something I enjoy as an artist! I appreciate the diversity of flowers. Colors, textures, all different shapes and sizes, and smells. It's the endless beauty of flowers and being able to manipulate them but also treat them before they go in an arrangement that gives me so much satisfaction, I'm prepping them to live a little longer once they've been cut from the ground. I'm giving them love and even find myself talking to them, haha!
Q. What flowers work best for yachts and why?
A. Tropical flowers are best suited for warm environments, but any flower can be added to an arrangement to create a beautiful piece of art.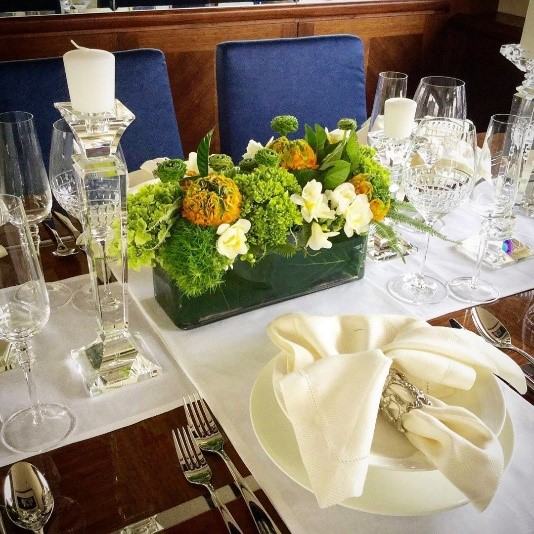 Q. Any tips for keeping orchids onboard?
A. Keeping orchids onboard is quite easy. If you follow these steps, you are likely to keep that plants blooms lasting longer. Orchids don't really need that much attention. You must realize that they don't stay in bloom forever, it doesn't mean that the plant is dead once the blossoms wilt.
I recommend keeping them out of too much direct sunlight, but they do need light to survive. Orchids should be watered once a week, about 4 ounces of water per stem. I do not recommend using ice cubes to water orchids (would you want an ice-cold cube sitting on you?) keep it at room temp, these are tropical plants. Check the soil, you never want it too wet or the roots will rot. Please feed them with orchid fertilizer once a month. Once the blooms wilt, a stew will have to swap out plants for fresh plant, to keep the interior of the yacht beautifully decorated with fresh blooms!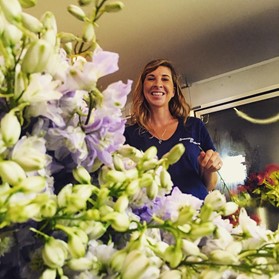 "Just look how happy flowers make me"
Q. What's in your floral kit?
A. There are many tools to create these arrangements however space is always an issue onboard. It's always good to have a stock of various sized vases onboard. A great pair of floral sheers is helpful to trim the bottom, some stems are quite tough to cut through. Always have a stock of floral food to mix into your water for feeding.
Q. How do you help the flowers last longer?
A. To help make your arrangements last longer, keep them in a cool place, inside at night and out of direct sunlight. Water, water, water the arrangement/oasis arrangement every day with a freshwater solution.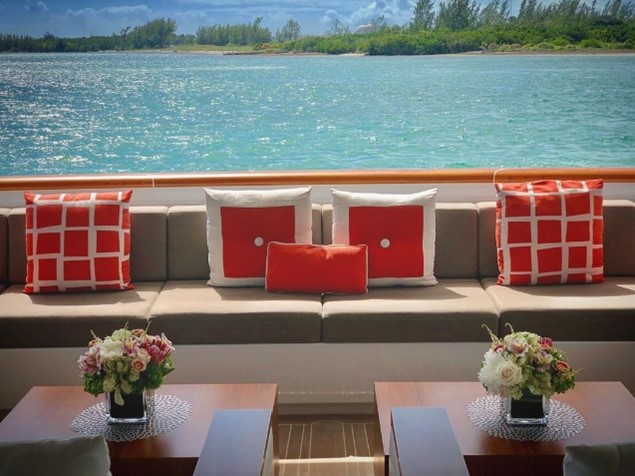 Q. What is your favorite flower?
A. This may be a but cliché, but my favorite flower is the rose! it's timeless, romantic and smells oh so sweet!
Q. Have you gotten any wild requests from yachts for flower displays?
A. I really have not gotten any crazy requests on yachts. Yachts tend to request the same styles, types of flowers and arrangements.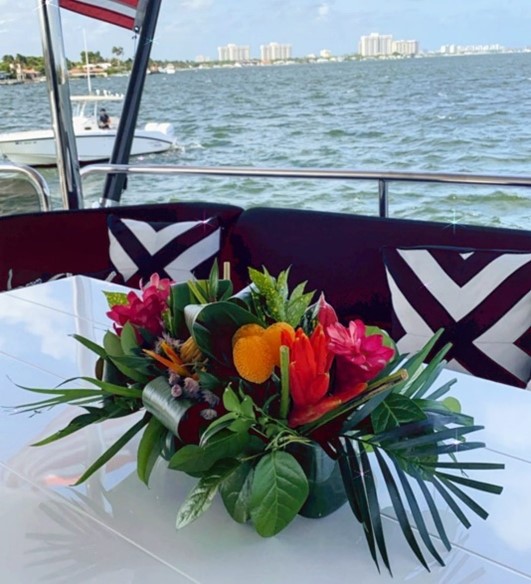 "The Aft Deck table always looks so much prettier with fresh florals and a beautiful view."
Q. What would be your easiest 5minute floral arrangement you recommend for an unexpected guest arrival!
A. An easy 5-minute floral arrangement for a last-minute guest arrival is to keep it simple! The calla lilies look beautiful, displayed in a tall vase with a minimal amount of water, to prevent the stems from becoming mushy. Keep them all the same color and length, this screams elegance!
For this arrangement which is a 5x5" glass cube I first leaf line it with two large leaves. This will cover my oasis floral foam. This foam has been submerged in water for 10 minutes. This will keep the flowers in place and fully hydrated.
I then start adding my greenery to the arrangement followed by the colorful flowers, while doing this I am constantly rotating the vase so that all sides are full and symmetrical.
I leave the tiniest flowers last as final touches.
Tip: Make sure there is plenty of water added to the floral foam daily.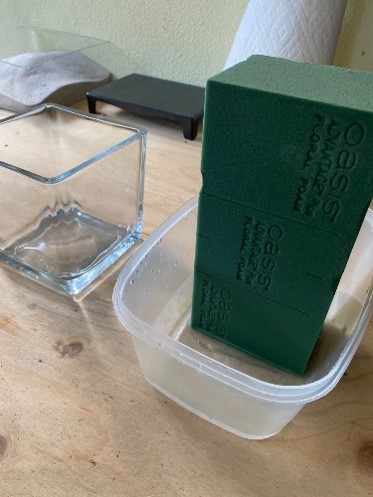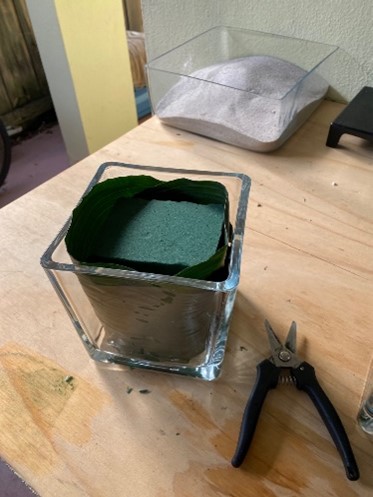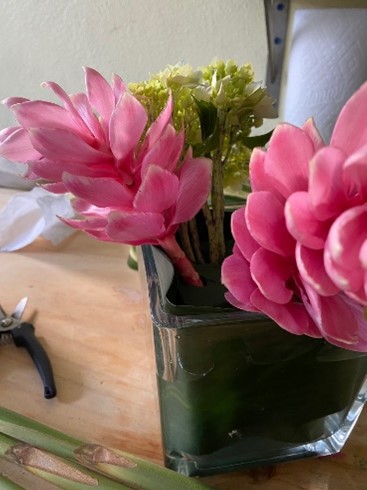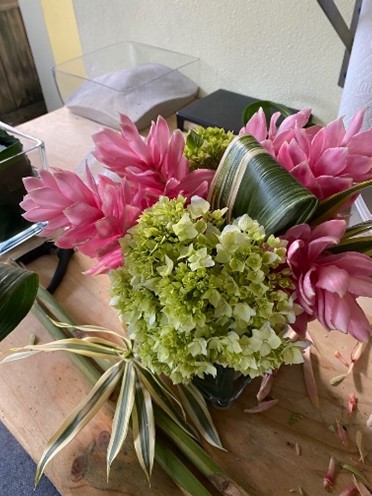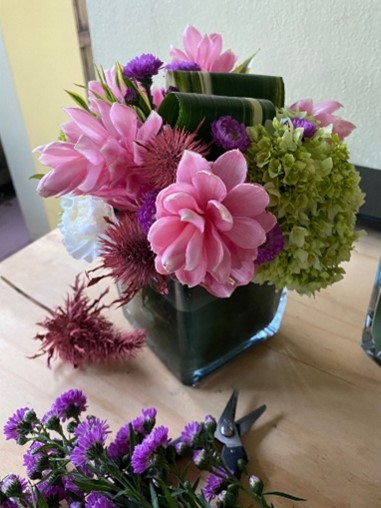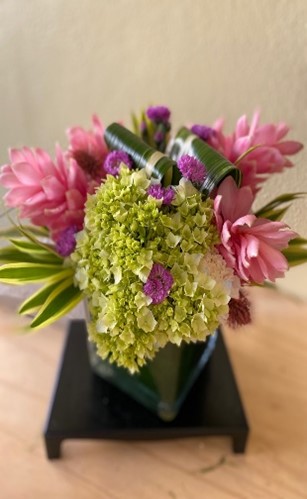 Contact Anna today for flowers!
Email: StemsandShoots@gmail.com
Telephone: +1-201-424-2402
---
Looking for a yacht job? Create a free CREW account and start receiving job offers.
Looking for crew? Join Meridiano and easily search over 40,000 qualified crew profiles to find your next great hire!
Copyright © 2020 by Meridian°
The information provided in this publication is intended for guidance only. We make every attempt to ensure the information included in this publication is accurate and up-to-date. However, Meridian makes no warranty or guarantee regarding the accuracy of the information within this publication. We recommend, in all cases, seeking specialist advice so that your individual circumstances can be fully considered.
All rights reserved. This publication or any portion thereof may not be reproduced or used in any manner whatsoever without the express written permission of the publisher except for the use of brief quotations in a book review.