Yachting CV Headshots
Every yacht crew on a job hunt knows the importance of a strong yacht CV. But do they know how much their yacht CV plays a role in making a good first impression? According to science, it only takes 3 seconds or less for someone to determine a "first impression" based on a photo. It's the first thing hiring managers/captains will notice on your CV, and a lackluster photo could mean the difference between getting a call for an interview or endlessly applying with no response.
Your photo doesn't just appear on your CV though, you should consider how you present yourself visually in all areas of your job search – your Meridian Crew Profile, CV headshot, and even social media (Facebook/Instagram). Many hiring managers will eliminate candidates based on inappropriate or unprofessional photos.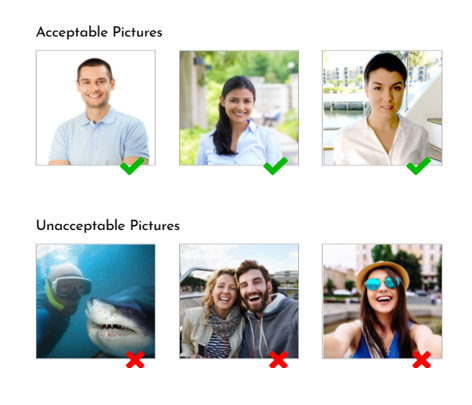 Look at our checklist to avoid the worst CV photos and how to get the best CV photos:
Best CV Photos:
•Neutral background or outdoors near a marina/nature with minimal shadows
•Clear, focused shot with natural lighting
•Looking directly at the camera with a natural and relaxed smile
•Professional attire that relates to the industry (i.e.: Polo shirt)
•Have the photo taken from chest up (not too close to the face, and not too far away either)
Worst CV Photos:
•Photos with bad lighting - too dark, weird shadows, yellowy
•Poor quality photos that are blurry, grainy, or hard to see your face
•Face is covered with sunglasses or you're wearing a hat
•Not looking directly into the camera, squinting, or not smiling
•Action/sports shots (this is not a dating profile!)
•Absolutely NO selfies! Find a friend to take a photo of you
•Overly corporate in a suit/tie is not appropriate for yachting. It might work for land-based jobs, but yachting needs to show your natural smiling face in a polo looking the part of yacht crew
Does your current photo meet these guidelines? If so, be sure to update your CV, profile photos, and social media. If not, go back and retake your photo with the tips above!
---
Looking for a yacht job? Create a free CREW account and start receiving job offers.
Looking for crew? Join Meridiano and easily search over 40,000 qualified crew profiles to find your next great hire!
Copyright © 2020 by Meridian°
The information provided in this publication is intended for guidance only. We make every attempt to ensure the information included in this publication is accurate and up-to-date. However, Meridian makes no warranty or guarantee regarding the accuracy of the information within this publication. We recommend, in all cases, seeking specialist advice so that your individual circumstances can be fully considered.
All rights reserved. This publication or any portion thereof may not be reproduced or used in any manner whatsoever without the express written permission of the publisher except for the use of brief quotations in a book review.